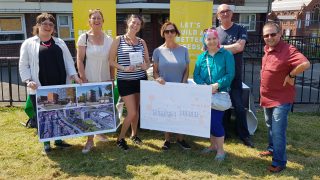 New Community Share offer launched to build homes on land where no one else will build.
People in Leeds and beyond are to be given the chance to invest in a new community share offer. The Armley Community Homes campaign, which launches on 21st Sept, will seek to raise £500,000 so that Leeds Community Homes can build 34 new homes on Mistress Lane in Armley. These high quality homes will be part of an affordable, sustainable new development for the people of Armley and will deliver desperately needed new homes on currently derelict land that no-one else would build on.
The need for decent, affordable new homes in Armley is massive. These homes will be a mix of flats and family houses for rent and sale, plus a shared communal space. They will be insulated to a high standard also including solar panels (PV), air source heat pumps and mechanical ventilation with heat recovery (MVHR) systems for all the homes, meaning that they will have a much lower carbon impact than most new and existing buildings. Residents will see this benefit in lower energy bills.
As well as high-quality homes, these homes will also bring a sense of community. On top of a shared communal space, Leeds Community Homes will be working with the residents so that they are involved in the running and management of the homes. Leeds Community Homes's role as the community land trust for Leeds means that the homes will stay affordable for perpetuity.
Lou Cunningham, Armley resident and community activist and member of Leeds Community Homes says: "The land on Mistress Lane has been unused since council flats on there were demolished in the early 2000s. But it's land right in the heart of Armley and so many people and families need homes. These homes won't just create high-quality warm homes for local people but we hope will also act as a real boost for the whole area.
With this share offer we are asking people to invest from £100 to £50,000. It's a good deal – a 5% return on their investment whilst at the same time making a contribution to Armley's future."
Jimm Reed, Director of Leeds Community Homes and the person driving forward this project said: "I have been behind a number of major community-led housing schemes and this scheme is one of the most exciting, delivering homes which only Leeds Community Homes can make happen. The designs are for high-quality homes, so desperately needed by local people here.
At Leeds Community Homes we have already raised the funding through Community Shares for affordable homes as part of the Climate Innovation District. In recent months, residents in Chapeltown have moved into their new homes in Chaco. Community-led housing doesn't just create fantastic homes, it also helps build community, so that's also what we are aiming to do here.
If we can raise the £500,000 in community shares, I know this scheme will happen and local families and individuals who really need them will get efficient, new homes and together we will build a new community."
You can invest now through our CROWDFUNDER PAGE.