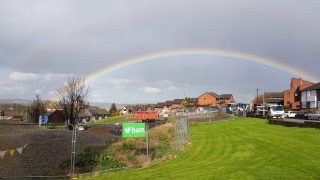 As you may have heard if you attended our recent AGM, Leeds Community Homes is planning a second community share issue. After the success of our first share issue in 2016, we will be launching a new share issue in the near future. The new project is called Armley Community Homes and will focus on raising funds for our Mistress Lane site in Armley.
What are community shares? Community shares are different from normal shares. They're about investing in a community, and are a great way for people to help raise investment for housing projects. Community shares are a way for money to be pooled from individuals who also want their community to thrive and can spare some money to help it to do so. It's about people not profit.
The money raised by community investors will be put directly into developing 34 new affordable and energy efficient new homes in Armley. Armley Community Homes will be Leeds Community homes's flagship project as a developer of community housing. It will enable us to develop our model and support and inspire more local groups as a community partner.
It is a chance to invest in the local community and help build homes for people who really need them. Join our mailing list to keep up to to date with developments: HERE